At the end of November 2011, Petr Jilek sent offer to me for attending himself organized photo event. He proposed going to Karov slade, which is romantic place near the Prague-Zbraslav on the right side of Vltava river. There is a dell with small creek with dense forest. There is a famous Celtic hilfort on the top – Zavist, however currently hilfort is reserved and without laber no one will locate it.But back to the photo event. The rally was determined on Sunday 11. Dec 2012 at 9 a.m. at Smichovske nadrazi (Prague). This place was valid for core group of photographs, the others join us subsequently at Zbraslav. In total 13 devotees who does not care about cold, windy and frosty winter weather and who want to spend almost whole day by making greater shoots.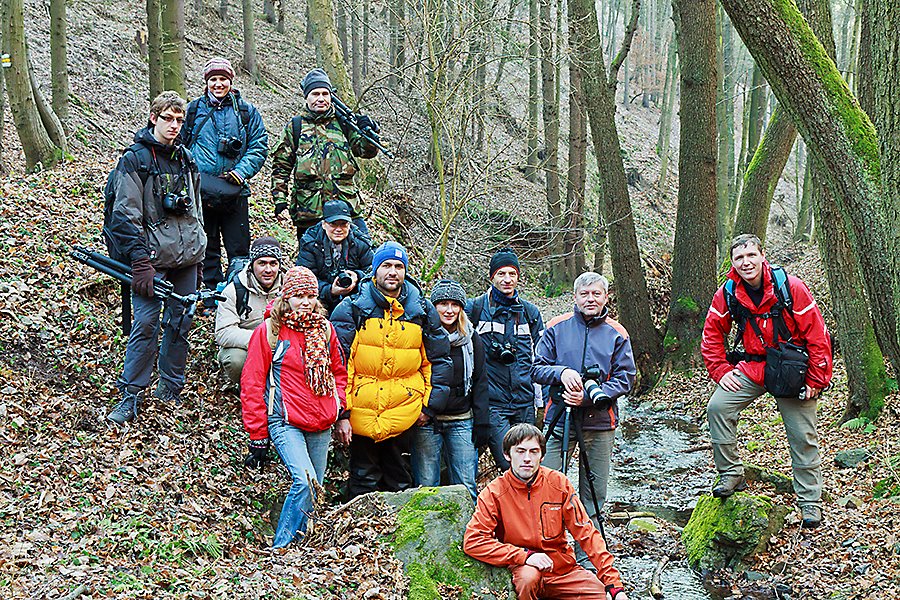 We were walking to Karov slade by the small road on the side of river. Before reaching Jarov village, we turn to left and up to the forest and around small creek. We separate to small groups. I walked up making some shoots before I reach small cascade on the creek. The cascade promised great picture, but there was obstacle in the form of mound of branches and sprigs at the bottom end. But it can not stopped me!
But above the cascade small glen opened before my eyes. The glen was full of bared trees and leaves on the grounds. The sun make the great light from the right and created wonderful scene with dark tree shadows and highlighted stems of trees. Due to intensity of sun, it was not possible to catch full range of tones, therefore it was right time to make several pictures with different exposure and join them to HDR image in post-processing. The final result overcome my expectations.
But because I time left and I have promised that I will come to home as early as possible to help with care of our small son, I left the group and walk back to bus. But even on the back trip I still look around me for scenes. I was awarded finally, there was alley of old trees on the edge of river with the sun low down shining on the bent aside.
I promised myself going back to this location in the next year, in my opinon the spring and even more autumn would be great period to make another documentation of beautiful nature scenery close to my city.